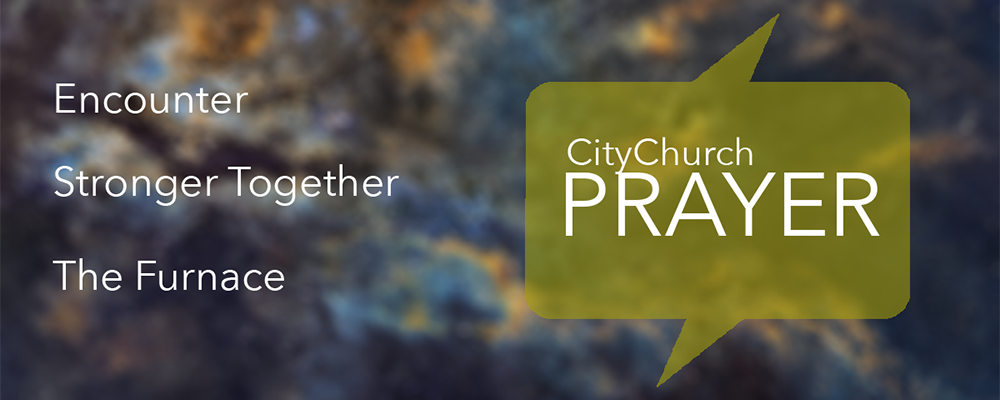 CityChurch Prayer
I wonder what would happen if every Christ-follower considered corporate prayer as a non-negotiable activity. What kind of kingdom gains would be made if each of us made pressing into God together a priority? I believe hearts would soften, habits would shift, faith would expand, love for the poor would increase, the lost would come to Christ and an insatiable hunger for the presence of God would increase among us.
We want to encourage everyone to engage together in corporate prayer, fully placing our hope in Gods transforming power.
ENCOUNTER Prayer meeting –
Encountering the Presence of God, Healing & Breakthrough
1st Sunday each month 19:30 @ St Stephens.
STRONGER TOGETHER Prayer meeting –
Trusting God in prayer for a healthy robust community
Each Friday 19:30 @ 169 Barnwood Road GL4 3HH.
THE FURNACE Prayer meeting –
Persistently praying for God's breakthrough in our church activities.
Every Wednesday morning 7am @ The George Whitfield Centre. Come for part or all of the meeting.
FOODBANK Prayer meeting –
Praying for the team, and God's impact among those we serve.
Every Monday 11:00 @ The George Whitfield Centre
SUNDAY Prayer meeting –
Praying for God's presence and power as the Church gather to God
Every Sunday 10am @ St Stephens
"Prayer is the slender nerve that moves the muscle of omnipotence" C. H. Spurgeon