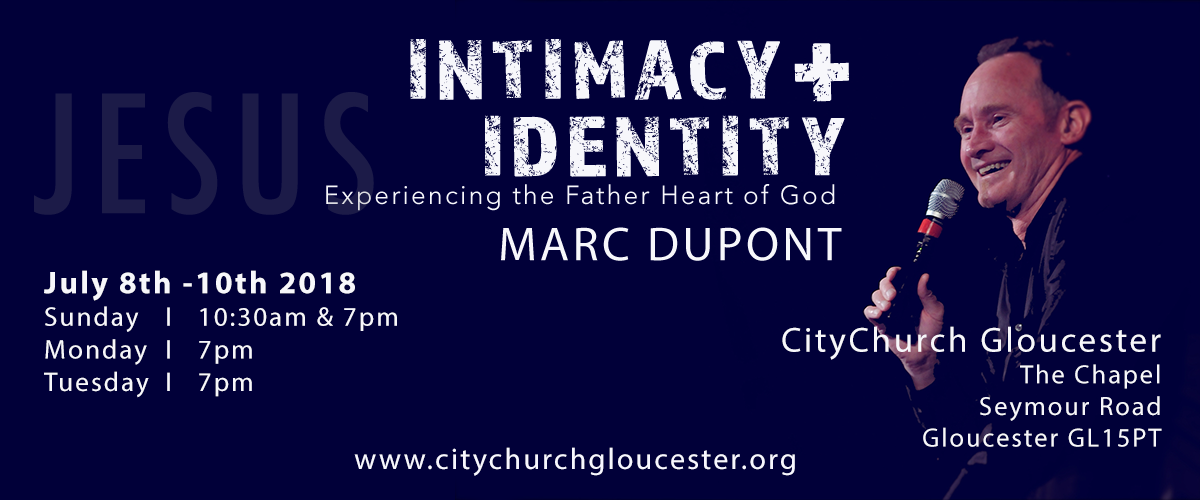 July 8th - 10th
Sunday 8th 10:30 – City Church main meeting
Sunday 8th 7pm – Intimacy & Identity
Monday 9th 7pm – Intimacy & Identity
Tuesday 10th 10am – Seminar
Tuesday 10th 7pm – Intimacy & Identity
Identity and Intimacy
Understanding our relationship with God as Father, sets us free from strongholds of a performance oriented relationship with God and the orphan spirit. These evenings could be a life transforming time for many. Each evening will include worship and ministry.
Seminar - Understanding and leading in God's times and seasons
This seminar is for leaders and key church workers. We will seek to grow in our understanding of what the Holy Spirit is saying to the contempoary church so as to lead in a way that co-operates with His will. There will be opportuniuty for prayer ministry.
The cost of this seminar will be £5pp and will include a light lunch. Booking is essential.
Venue:
The Chapel, Seymour Road, Gloucester, GL1 5PT
MARC DUPONT
Marc Dupont has been involved in global church wide ministry for over 35 years. God has used Marc prophetically & in training & equipping the church in the ways of God and the gifts of the Holy Spirit. Marc has a passion for seeing individuals & churches connect with God on a deeper level.
He has also authored several books. One of his early works is the  book "Toxic Churches" which deals with false motivation for ministry and the ensuing entrapments of toxic faith type churches. Marc's book titled "Pursuing Open Heavens" deals with the heart cry within each of us to know the glory of God. "Healing Today-When the Blind See and the Lame Walk"with Mark Stibbe) is both a practical as well as a theological book designed to enourage and train everyday Christians to effectively pray for the sick. "Becoming the Friend of God" is a study of four key aspects of Abraham, "the friend of God," and how we too can develop true friendship with God!  Marc's latest book "Breakthrough in Times of Breakdown", talks about how there is divine help in times of turmoil, amazing grace in times of suffering and the Prince of Peace in any age of confusion.
Please fill in the form below with your contact details, stating how many will attend at each meeting.
The cost of the seminar is £5 per person on the door.